Tour De France german (Edit)
3.05
the 7" version, edited from the long 12" version
Tour De France french (Edit)
3.05
the 7" version, French language
Tour De France instrumental
2.40
instrumental version edited from the 12" version, used as a 7"
B-side outside of Germany
Tour De France 2ieme etape
2.40
instrumental version edited from the 12" version, used as a 12"
B-side outside of Germany, but omitting the rhythm track
Tour De France german
6.30
the 12" version
Tour De France french
6.30
the 12" version, French language
Tour De France french (Remix) (Edit)
3.50
7" version, edited from the French-language Kraftwerk remix,
issued in Canada and the US
Tour De France german (Remix)
6.44
the Kraftwerk remix, German-language version
Tour De France french (Remix)
6.44
the Kraftwerk remix, French-language version
Tour De France (Kevorkian Remix) (Instrumental Edit)
2.00
instrumental edit of the Kevorkian remix, issued on promo
video only
Tour De France (Kevorkian Remix) (Edit) (fadeout)
3.27
7" edit of the Kevorkian remix, issued in Mexico
Tour De France (Kevorkian Remix) (Edit)
3.42
7" edit of the Kevorkian remix, most widely used edit
Tour De France (Kevorkian Remix) (Edit)
3.47
7" edit of the Kevorkian remix, issued in the US
Tour De France (Kevorkian Remix) (Edit)
4.04
same as above, a bit longer, issued in Canada
Tour De France (Kevorkian Remix) (Edit)
5.15
edit of the Kevorkian remix, part of a non-stop mix on the 'Cool
Groove Non Stop Blast Mix' compilation
Tour De France (Kevorkian Remix)
6.47
finally, the Kevorkian remix, long 'standard' form
For the 12" remix singles, matters are complicated. The German version of the 6.44 minute Kraftwerk remix is rather hard to come by, due to EMI Germany producing a run of mispressed 12"'s: there is one pressing actually featuring this mix, indistinguishable from the original issues, but playing the German and French language versions of the remix. Only a glance at the matrix number in the run-out groove helps: original 6.30 minute issues end with ...A2 on side A, ...B3 on side B. The 6.44 remix issue has A3/B4 respectively. Both come in the same cover detailing the 6.30 minute versions. EMI Germany manufactured a proper remix 12&quot then, sleeve crediting the German language 6.44 remix on side B, but again it was mispressed. All pressings of this remix 12" have the French language version on side B. Other pressings featuring the 6.44 German language remix come from Australia and France.
In Australia, two pressings were released: one with the catalogue number 'ED 85' playing both 6.44 minute remixes (and with purple instead of red lower right cover edge) and 'ED 90' additionally featuring the 6.47 minute Kevorkian remix. There is also a cassette single version of this release, TC-ED-90.
A nice variation is the Mexican 12" with additional Spanish title. The 6.44 minute French language remix, 6.47 minute Kevorkian remix and original version 3.05 edit are to be found on the pressings from England, New_Zealand and Colombia - the latter without picture sleeve. US and Canadian pressings omit the 3.05 minute edit version.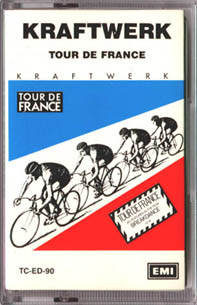 Australian 'Tour De France Remix' cassette