French 'Les Mannequins' single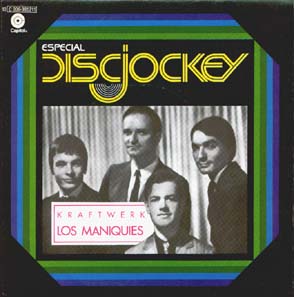 Spanish 'Los Maniquies' single
'Showroom Dummies' is the Kraftwerk single release that never quite 'made it'. Released several times in the UK as well as in the US, Canada, Japan, Spain and France, 'Showroom Dummies' was no hit.
The melody line for 'Showroom Dummies' was developed in improvisations in concerts, probably from as early as 1974 onwards. When 'Showroom Dummies' finally appeared on the 'Trans Europe Express' album in 1977, it was Kraftwerk's first multi-language song with a version in French as well as German and English.
As 'Trans Europe Express' was chosen as the first single for the album, 'Showroom Dummies' was the obvious choice for a second single. 7" singles were released in France (Les Mannequins) and Spain.
The Spanish single, although titled 'Los Maniquies', features the English-language version. In the UK, a 7" single was also released, without a picutre sleeve. As there was no standard edit version of the song, all countries used unique versions.