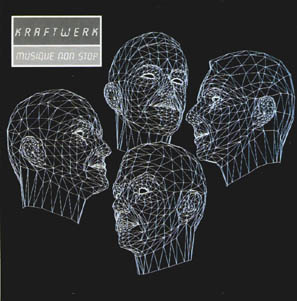 German 'Musique non stop' single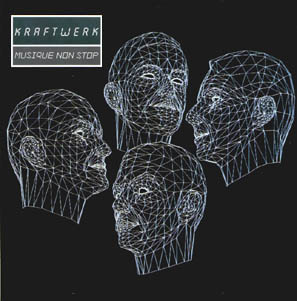 US 'Musique non stop' 12"
As the promised 'Techno Pop' album didn't meet Kraftwerk's expectations in 1984, the group took another two years remixing the album with the help of Francois Kevorkian. The result wasn't 'Techno Pop' any more, but 'Electric Cafe. As a single, 'Musique non stop' was released, a very interesting piece playing with sounds and structures rather than pop melodies. For the collector, this release does not offer all that much - the standard single was exactly the same in most countries around the world. The germansingle serves well as an example, featuring a longer edit at 4.08 minutes on side A, a shorter 3.19 edit on side B. The single was released like this in Australia, Canada, England, France, Italy, the Netherlands, Portugal, South Africa, Spain and the USA.
These countries released 12" singles as well, all featuring the long 6.15 minute version of Musique non stop on side A and the 4.08 minute single edit on side B. In England, a 12" promo without sleeve was issued as well. In the USA, the 7" promo had the 4.08 version on both sides. A slight variation is the US 12" single, as one cover using a needle-printer typeface on the 'Musique non stop' lettering was printed. This was switched to a sleeve using the LCD typeface used in all other countries later on.